As we continue in the "post-pandemic" world, adopting and adapting technology, wherever possible, to make remote work more accessible and efficient, one of the areas that continues to be scrutinized is therapy. Whether we're using terms like remote therapy, online therapy, e-counselling, e-therapy, telepsychology, tele-counselling, or teletherapy, we're talking about the same thing: psychotherapy for mental health which utilizes technology to enable it to be delivered virtually.
Some stigma around remote therapy still exists, despite popular marketing efforts to bring more awareness and acceptance around remote therapy and the other forms of digital counselling. For example, Michael Phelps, Canadian Olympic winner, world champion, and 28-time medalist in swimming, shared that his use of TalkSpace's remote therapy was responsible for "saving his life" during one of his most difficult mental health struggles.
There are already a plethora of studies and research showing the effectiveness of remote therapy, even demonstrating that it can be just as effective for working with many common mental health struggles, as compared to more traditional face-to-face therapy. Nonetheless, I feel the need to write this post and put forth the argument that remote counselling can be, and often is, just as effective as traditional face-to-face therapy.
So, let's dive in! If you prefer video, check the video over on Youtube.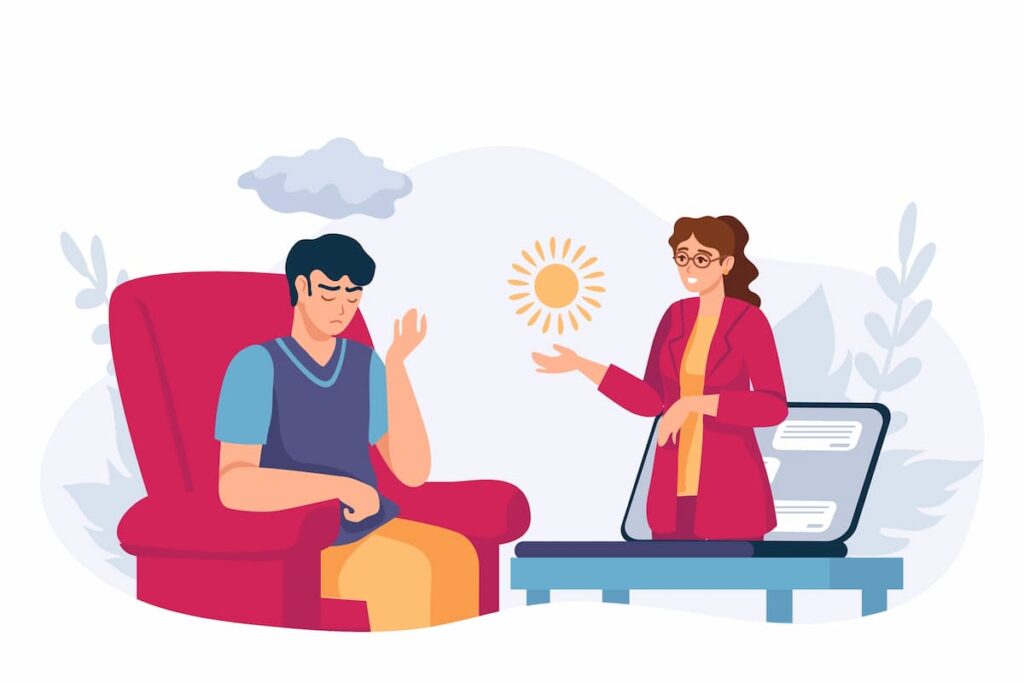 Table of Contents:
The Pros of Remote Therapy and Tele-counselling
The view that remote therapy cannot capture the true essence of more traditional face-to-face therapy often comes from a place of privilege. That is, there can be a lack of recognition of the fact that face-to-face therapy is often only available to people in specific geographical areas, to people with specific physical capabilities, and to people who are able to afford and have the means required for the additional time and costs associated with travelling to and from appointments.
And while all this talk of online and remote therapy may sound like a relatively new concept or form of counselling, it's actually not that new at all.
Remote therapy could be argued to have its start back in 1886 when the famous neurologist and founder of psychoanalysis, Dr. Sigmund Freud, would correspond with some of his patients via written letters, a practice he continued throughout his working years until 1938.
Even the "OG" (and arguable still one of the most recognized names) in psychotherapy recognized the gap that existed for some clients and went out of his way to ensure others were still able to access the help they needed and deserved. The World Health Organisation (WHO) has reported that around 70% of countries have now adopted 'teletherapy'—therapy session via video call—to overcome disruptions to in-person mental health services. If it wasn't for people, like Freud, willing to adopt different approaches, this statistic would likely be significantly smaller.
So, now that I have hopefully convinced you, on some level, that remote therapy can be a viable option for improving mental health for those that utilize it, let's jump deeper into some of the unique benefits that remote therapy and tele-counselling has to offer.
You Get to Choose from a Larger Pool of Therapists
When you're looking for a therapist to see strictly online, the choices available to you will increase exponentially. By its very nature, remote counselling does not require you to live in the same geographic area as your prospective therapist and, thus, allows for a wider "net" when searching. This is especially true for people living in medium-sized to small-sized cities, and even more so for people living in towns, rural, and especially remote areas.
You can test this out right now by going to one of the more popular therapist directory sites here. Start by searching in just the city in which you live (if you're in a big city, you may need to narrow it down neighbourhood-wise for transportation purposes). Then, skim through at the bottom to see how many pages of options show up with therapist listings.
Now, instead of searching your city, search your province or state, and in some cases, your country (depending on the specific type of qualification you are looking for and their college's geographical practice restraints). It will likely take you all afternoon, if not more, to sort through each profile that peaks your interest.
If you're looking for a very specific expertise, this will be even more valuable, as not every city has therapists specializing in every mental health sub-niche.
The only caveat here is that not all therapists who offer remote do it "well", but I'll cover that in more detail in a later section where I share some tips for therapists on how they can optimize the remote therapy experience for their clients and themselves.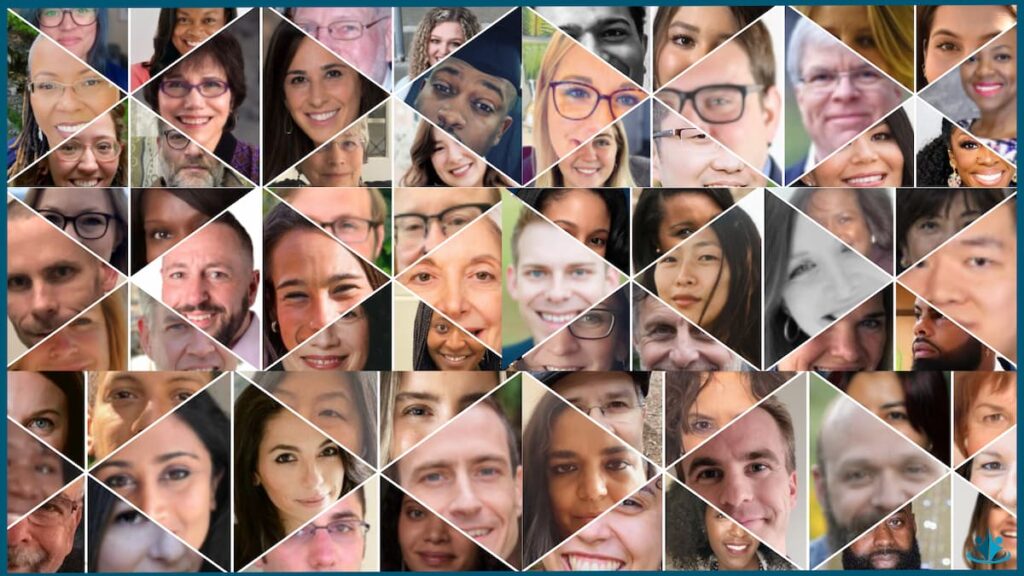 Convenience and Affordability
By choosing remote therapy, you immediately save on costs associated with transportation and depending on how you earn a living (i.e., time is money) you may be saving even more here. Of course, sometimes the travel to and from therapy can be beneficial.
I sometimes miss my two-hour train commute to graduate school, as I got a lot of time to process what I had learned, and deep dive into some podcasts. But you can "program that in" yourself, by allowing a short walk after your remote therapy session. If you live near a nature trail, even better, as I am sure most will agree this is preferable to driving in city traffic or on the highway.
Therapists that are in their own strictly remote private practice can also offer lower prices due to significantly lower overhead costs. They don't have to worry about things like renting an office which, in some cities, can be extremely expensive.
Remote Therapy Can Be More Approachable
Anyone who has gone to therapy likely remembers their very first time. It can come with a whole host of emotions like anxiety, shame, and embarrassment. Sometimes there can even be stigma associated with walking through the doors of a counselling office. It can feel as though you are announcing to everyone around you; "there is something wrong with me" (of course, I hope this is less true nowadays and continues to be even less so). But, it's a valid emotional experience people go through when considering therapy and starting that journey.
Clients who have experienced significant childhood abuse and who have been victims of sexual abuse and rape have reported feeling safer having their sessions from the comfort of their home and not having to face a therapist in person, particularly at the beginning of therapy.
Additionally, when you access therapy remotely, you can do so in an almost "anonymous" manner, where no one else would ever see or know what you are doing (aside from your therapist, of course). This actually leads to the next point, so keep reading!
Remote Therapy Offers Choice in Location
Let's be honest, a therapist's office is likely the furthest thing away from your "everyday life". Sure, that can be helpful at times, in that it sets up the stage for you to do "serious work". But I think there's a valid argument to be made that counselling done in your own everyday living space has its own unique benefits.
With remote therapy, you may find yourself more comfortable in the location that suits you best and in which you feel comfortable and secure. These locations might include:
Your bedroom
Your dining room table
Your backyard porch
Outdoors in nature
Your car
Your garage
Your home office
Your living room couch
At the Cottage
On a Beach
RV Camper
The middle of a lake
And anywhere else!
All of this is to say that you have more control over the privacy and confidentiality of your therapy session and its location.
Unfortunately, there's typically no guarantee that your therapist's office is 100% soundproofed. During my own time in counselling, I remember being able to hear muffled voices from the office next door, and I immediately felt a sense of panic that there was a chance my session might be overheard.
A serious therapy centre will take extra steps to ensure soundproofing exists between walls, in vents, around doorframes, and between building floors, because they take their clients' right for confidentiality seriously.
Although popular therapy platforms like Jane.app use encrypted servers, it's important to note that nothing on the internet is 100% secure. However, the same can be said for paper notes locked in an office. Almost all organizations these days, no matter what sector (financial, health, government, etc.), store their client information on digital databases that are technically "at risk". Of course, extreme efforts and safeguards are put in place to ensure security and confidentiality. And if this causes any worry, some countries like Estonia, for example, have converted their entire public services sector into a cloud based e-solution, and have not been compromised by a security threat since 2002.
With a choice of location that you find most comfortable, you may find it easier to share in-depth and private information about yourself which can make progressing towards your goals in therapy take less time. On top of this, without having to travel to your appointment, which can sometimes be a stressful experience in busy cities, you'll be able to perform whatever routine or ritual of your choosing right before your session (e.g., depth breathing or light exercise), and this can help make you feel "ready to go" right from the start of your session.
Some clients who prefer remote therapy will even use their phone and be outside in a private area as they find it calming and peaceful. While this isn't always ideal due to internet connectivity issues, it can work well for some.
All of this is to say you have choice and control over the privacy and confidentiality of your sessions.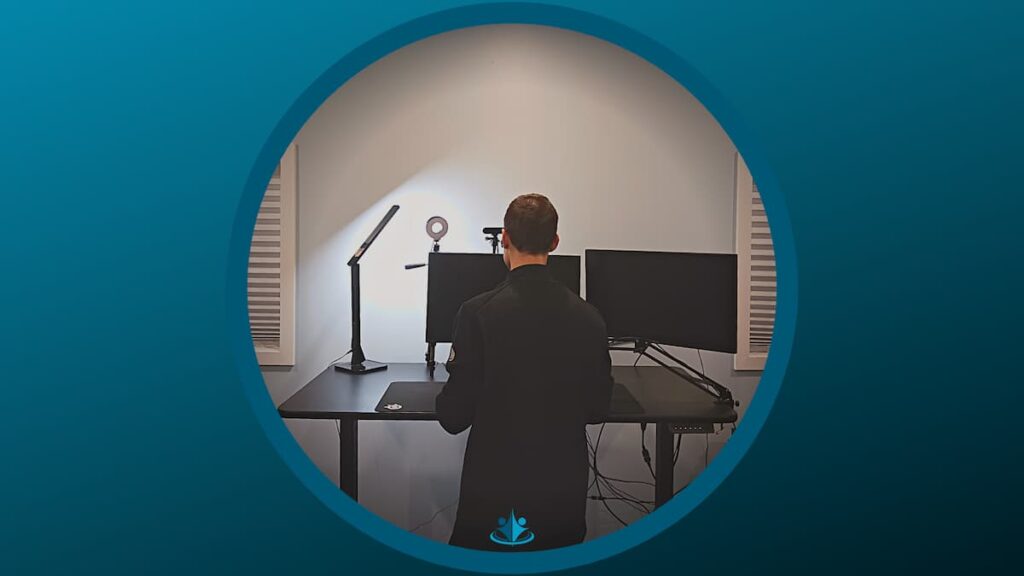 You Get to Avoid Waiting Rooms
I'm an introvert myself and, as such, I find any sort of "waiting room" to be an awkward experience. It's one of those weird things about modern society and urban living in that we have to share space with strangers (I say this from an evolutionary perspective, in that we didn't evolve in communities with strangers, only people we had close bonds with). We can all share that reluctance to waiting in emergency rooms or doctor's offices out of fear of being so close to other people's "germs" and catching something we could have avoided. This fear has really been heightened, for many, during the pandemic and resulting "isolation" periods.
But waiting rooms for therapy can be an awkward experience, especially for first-time goers. Thoughts may run through your head like "what if I see someone I know", "what if someone I work with is there", and "what do these people think I'm here for". There's no beating around the bush here, it's just plain awkward for some of us.
Do your research, as some counselling centres go the extra strep for their clients and their waiting rooms. For in-person sessions, you can tap your phone at the kiosk that lets your therapist know you're ready and waiting (no checking in at reception), and some centre's provide even free snacks and refreshments. Sorry…that's not something I can offer remotely, although, I suppose I could pre-order an Uber Starbucks delivery for clients? But, probably not. Actually, definitely not…sorry.
It Offers Access to Rural and Remote Areas
Similar to some of the previous points, remote therapy offers people living in restricted and rural geographical areas ease of access to mental health care. To say that therapy is only effective in-person is saying that these people will either have to move or travel extended distances in order to access therapy services.
And while that may still be a valid argument in some cases (e.g., extreme mental illness/disorders), remote therapy allows people access to care that they otherwise would have to live without. And that's a good thing. Wouldn't you agree?
It's Easier for Clients to Request and Access Their Client Files
I would suspect most therapists these days are using some sort of software for their bookings and record keeping. I'm still astonished that some still use paper calendars and cash only payments, but I suspect that will eventually be phased out.
Either way, a remote only therapist is almost certainly using software for their record keeping. And a bit of a pet peeve of mine, in any health care field in Canada, is the reluctance to let clients know they have the right to access their records, whenever they want (subject to certain exceptions). This is true of any health care field in Canada (if you're reading this and live in a different country, you will need to check the legislation around this topic specific to where you live).
A positive I see in the mental health field is the ease in which a client can request and access those records. For us Canadians, accessing our medical health care records is like trying to speak to someone from the government on the phone. "Good luck" is all I have to say, and I'm sure many Canadians reading this know why I use sarcasm here (and laugh with me in my attempt at humour).
But your remote therapist will be able to produce and give you your records in a timely fashion whenever you request, and remember, you have the right to do so!
Research to Date for Remote Therapy and Tele-counselling
I wouldn't be making a strong case for the effectiveness of remote therapy if I didn't discuss the research to date on remote therapy. But to keep things simple and avoid overloading this post with academic jargon, here's a simple table breaking down some of the research in the areas of remote therapy and the associated findings:
More Research is Needed for Remote Therapy
More research will always be needed and, in my opinion, it should be that way. I appreciate therapists who are critical of therapy because it draws attention to potential areas that would benefit from improvement or enhancement. For example, some therapists are starting to now incorporate the "Feedback Informed Therapy" approach in their practice.
Feedback-informed treatment (FIT) is an evidence-based practice where clinicians gather real-time input from clients, using structured measures to identify what is and is not working in therapy, and then adjust accordingly; to better meet client's needs. FIT aims to incorporate the client's perspective about the therapeutic relationship on an on-going basis.
When you read that quote, it may seem obvious that therapists should be checking in with clients to see if therapy is working. But because of pioneers, like Scott D. Miller, who are rigorously researching what does and does not work in therapy, we get to discover new tools that better help clients meet their goals.
As more research is done, this will likely be the case with remote therapy. We will further understand what is working well with remote therapy, as well as what is not working well. And, I'm sure you're aware, technology moves/progresses quickly, so the research will always need to catch up to these advances.
And it's important to be critical of even the research that is available. One of the reasons I made this post was to help therapist's optimize the remote therapy experience (I go more in-depth further down the post). If the therapist's and counsellors included in a research study have a poor opinion or experience with remote therapy, one variable could be a less that optimal set-up, resulting in an unfavourable experience due to inadequate technology and internet connections, not because of the overall efficacy of remote therapy.
In the not-to-distant future, I suspect Virtual Reality (VR) headsets will become common place for remote therapy, as they become more accessible for the general population, and this will likely allow remote therapy to become almost identical to in-person. In fact, VR is already being used for common therapeutic approaches like Exposure Therapy, to simulate what the client fears and allow them to strategically build confidence towards facing that fear.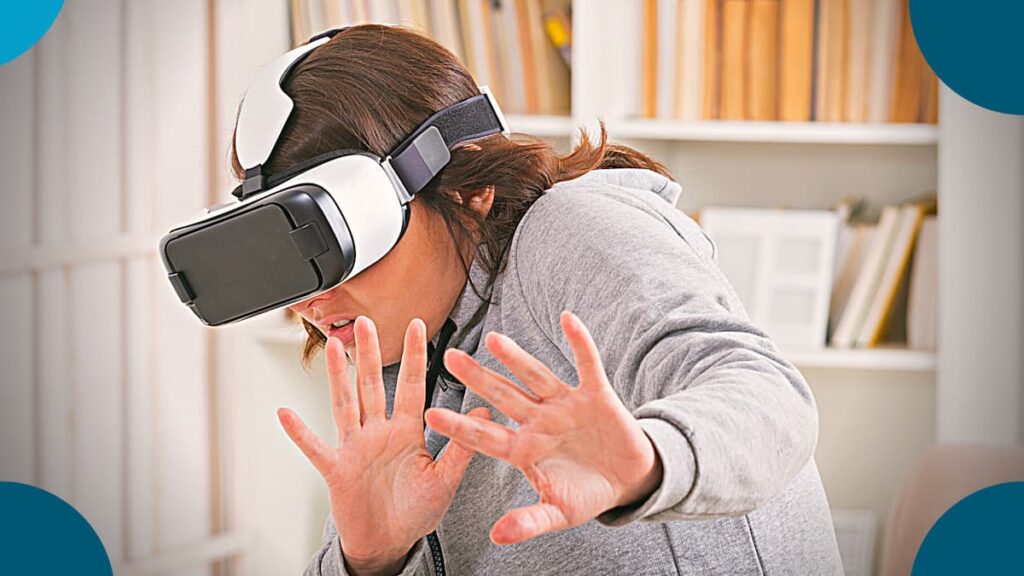 Disadvantages of Remote Therapy and Tele-counselling
I wouldn't be doing this post and topic justice if I didn't play "devil's advocate" and discuss some of the potential downsides to remote therapy. So, let's break down what can be considered the disadvantages to accessing therapy remotely.
Insurance Companies May Not Cover It
Some insurance companies won't cover remote therapy. This is far less true nowadays post COVID-19 and typically, now, insurance companies care most about the designations (e.g., MSW, RSW, R.P., Psychologist, etc.,).
But it's always best practice, on the client's end, to check with your insurance what you are covered for before proceeding with booking a session, to ensure you will receive coverage if it's available to you.
Some Provinces and States Don't Allow Out-of-State/Province Providers
This relates to one of my "pros", where remote therapy allows you to access a larger pool of therapists. You may still be limited by geographical location. For example, I am a Registered Social Worker in Ontario, and can only see clients who reside in Ontario.
I do have the opportunity to register in other Provinces, and that's something I'm starting to explore. But I will talk more about that during my section on the benefits of remote therapy for therapists.
Confidentiality, Privacy, and Unreliable Technology
Although you have choice in your location during remote counselling and therapy, you may still be limited. This is especially true for people in abusive and controlling relationships who may not have the freedom to access remote therapy at home or nearby.
And unreliable technology is of course, a big one. I'll explain more in a later section on what clients can do to improve their remote therapy experience, but the biggest one is internet connection. If you can be "wired in" (i.e., plugged directly into your modem and not rely on Wi-Fi) you'll have the smoothest experience.
However, as I stated before, technology is constantly progressing, and we will likely see a surge in satellite internet over the next decade which will offer high-speed wireless connections to almost anywhere in the world.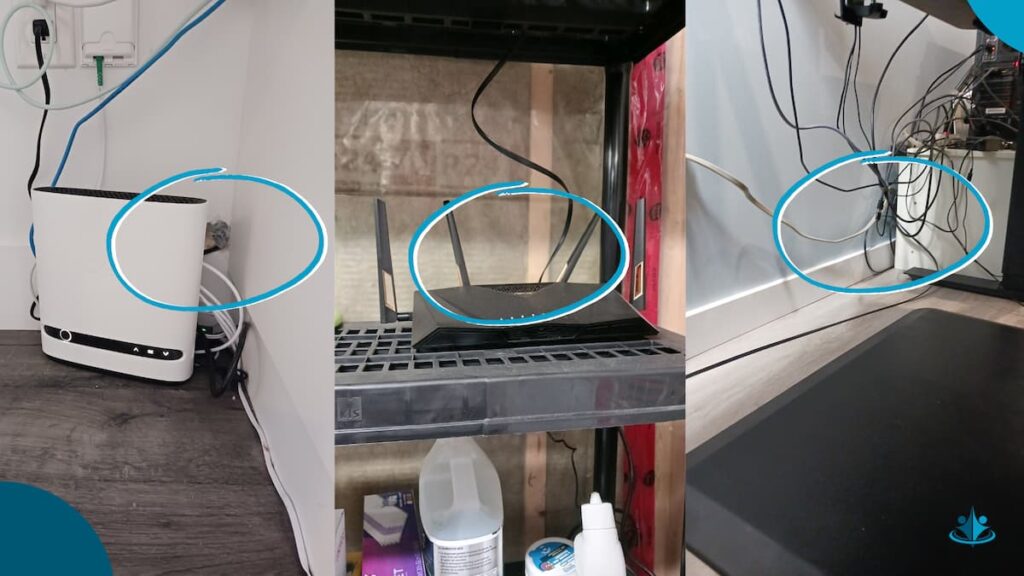 Lack of Response to Crisis Situations
Remote therapists will have less opportunity to help their clients during a crisis situation, like a sudden health condition that requires immediate attention for their client.
Best practice for any remote therapy experience is for the therapist to always confirm the client's location when they start their session, in case they need to pass on this information to emergency response units.
Not Appropriate for Serious Psychiatric Illnesses
Remote therapy is not the best option for people experiencing complex and serious psychiatric issues. It can be after a client or patient has already made progress and is on the road to recovery, in that it can offer easy and convenient opportunities to "check-in" on progress, but it is not ideal for handling complex issues from the outset.
Hopefully, people experiencing these more complex issues and challenges are able to reside in a centre that offers ongoing and immediate support until they reach a particular phase of recovery that deems them fit to care for themselves again.
Overlooks Body Language
Body language is a very important aspect for many therapeutic approaches and should be considered in any therapeutic context. Remote therapy, however, often displays only the top half of our body.
As a remote therapist myself, I am in the habit of looking directly into my webcam to offer my clients a better experience, but this means there are times where I am not entirely attuned to my client's body language and can miss important information.
There are already solutions to this issue with technology like the "center cam".This allows a tiny HD webcam to be at the centre of a person's monitor, so that they can always see the client, and will appear to the client to always be making virtual eye contact.
For a lot of common mental health issues and challenges, this won't mean a client is less likely to reach their goals, but it is important to note. As technology advances, so too does the remote experience, and this may soon not be much of an issue at all for virtual therapy.
Unqualified Providers Are More Prominent
This is an issue with any service online, as the internet makes falling prey to misinformation and scams really easy. When people are looking for a remote only therapists, the pool of available therapists opens up exponentially, and so does the opportunity for unqualified people to show up in search directories.
These are people who do not have the training or certification to offer mental health services, or who are qualified but have been suspended or "terminated" from being allowed to do so. They can hide this information online and the clients may never know.
This becomes an issue for liability and legal reasons, as the unqualified provider is not registered to any regulatory body whose job is to protect you, the public. So always do your "due diligence" and look for common qualifications such as:
Registered Psychotherapist
Registered Social Worker
Psychologist
Psychiatrist
Canadian Certified Counsellor
Registered Psychotherapist (Qualifying)
Please note: these designations are specific to Canada and, while some may apply to your Country or geographical location, it is in your best interest to check which designations qualify and are regulated for mental health services.
A common situation I see here is Life Coaches advertising mental health services. There's no need to debate whether or not they can help people with their mental health, the issue is that they aren't being regulated, and the opportunity for malpractice significantly increases.
Don't get me wrong, Life Coaches can be great, and they often take extra training and certification to be able to better meet their clients' needs and goals. However, they are not regulated for mental health, so in "worst case scenarios", there will be little legal recourse opportunity available to you as the client.
I know this is a long post, so here's the table of contents again in case you want to "bounce around"
Table of Contents:
Tips For Clients to Get the Most Out of Their Remote Therapy
Here are a few tips for clients to consider, in order to get the most out of their therapy and avoid technological issues during sessions. I have purchased and use all the gear that is being mentioned, and am suggesting them in good faith.
I've made a "kit" using kit.co to put all of this gear together in one place in case you want to reference it later or explore it in more detail. You can click here to check it out.
Internet Connection
I mentioned above and included a picture of how I run one of the fastest internet speeds available in my area directly into my computer using a couple hundred feet of Cat8 Ethernet Cable. There's no debate here, being wired in directly to your modem will always offer the fastest and most reliable internet connection.
I often joke with my remote therapy clients that, unless there is a power outage, any tech issues are unlikely to be on my end (but that's how it should be, right? I swear, I'm not being smug…).
There are options for having ethernet adapters for common phones like Android and iPhone, so if you're at home using your phone and near your modem, you may want to consider an adapter.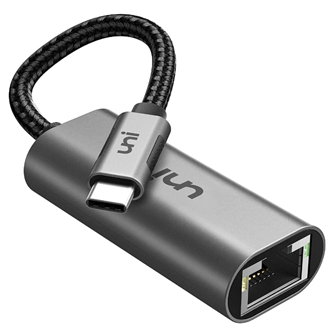 And you don't have to be right next to your modem. As I previously noted, I run over 200 feet of ethernet cable to my detached garage office. Considering therapy is typically once a week, at most, it wouldn't even be a big chore to run a cable from your modem to somewhere more private in your home then put it away after.
For us Canadians, we live in the "dystopian" reality that there are only two internet providers and they have full control over our lives (sarcasm). Sure, there are third party providers, but they are often just intercepting the two big companies' resources and providing something extra, like better customer service or support.
And I note this later on in the post, but it's important: WiFi technology can vary drastically. The "WiFi boosters/extenders" provided to you by your Internet Service Provider pale in comparison to other more premium options available on the consumer market. So, unless you have gone out of your way to significantly upgrade your WiFi technology, it can and will be weak and unreliable at times.
But here's a breakdown of some of the common internet companies and the speeds they provide in Canada.
As a general rule, standard definition video will need at least 3 Megabits per second (Mbps). If anyone else is accessing your internet at the same time as your session, this will take from your current allotted mbps. Don't worry, most internet providers offer far more than this as a minimum!
Video & Audio
Most laptops today will have at least a 1280×720 pixels webcam, which is more than enough for clear video, and the platform you use will unlikely support anything higher, especially with a lower-end internet connection.
I don't think clients should feel the need to spend money on the most "optimal and professional" set up to access therapy. But if you feel you would benefit from some of the items, or are at least curious in how remote only therapists, like myself, set up for therapy, then it may be worth considering, so keep reading!
Tips For Therapists to Optimize Their Remote Therapy
I take my remote therapy set-up seriously and, in doing so, it shows my clients that I take their therapy seriously. I think remote therapy sometimes gets a bad reputation because of poor quality set-ups. So, I'm going to share some tips on how you can spend just a little bit of extra money to drastically improve your clients' remote therapy sessions.
Internet
I can't stress this enough; you should plug directly into your modem for internet access. It will be rare to be on an internet service that can't provide enough for video-to-video calls, but WiFi technology is very precarious and, unless you've gone out of your way to ensure you have the "best set-up", it will be unreliable.
There's no limit to how long ethernet cables can be, so plug it in!
But for some, that may not be an option. So, I would recommend going to a computer hardware store (I'm a big fan of Canada Computers) and letting them know you are doing video-to-video calls for work, and need create the best WiFi connection in your home. They will be able to take it from there, but it may be a bit pricey. If you're self-employed, that's a business expense 😉
Webcam
This is probably the most important piece of equipment (outside of your internet connection) for remote therapists to consider. Offering your therapy clients the best remote therapy experience starts with clear video. Fortunately, high-end webcams these days aren't that expensive.
I personally own and use the Logitech BRIO Webcam with 4K. The only step above this is using an actual "proper" camera, like a DSLR, and connecting it to the computer. But that gets expensive and the increase in cost won't really be noticeable on the other end (i.e., your clients).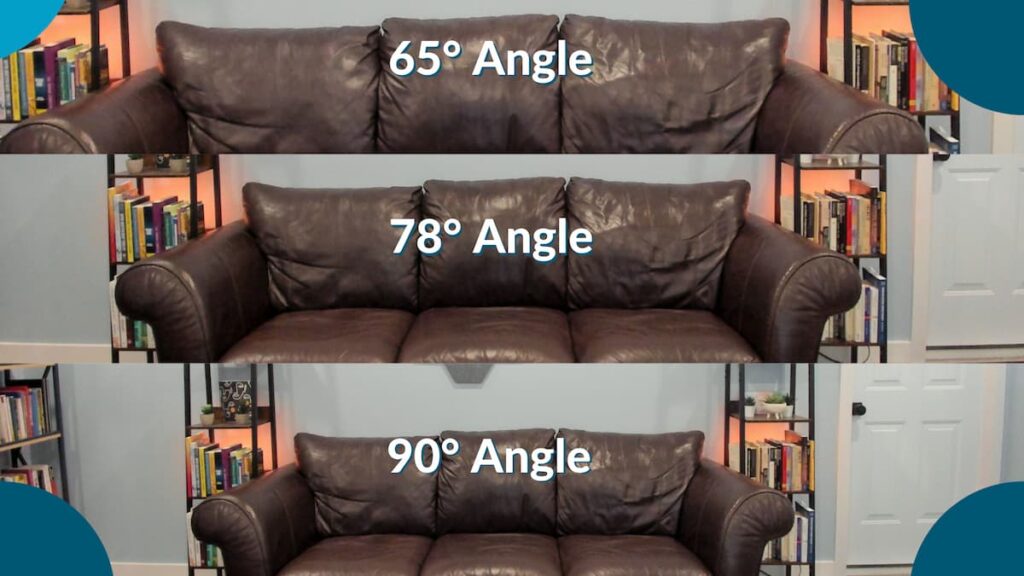 What I really like about the Brio webcam is that it offers three different width angles. This can come in handy during sessions with clients where I can pull something out like a whiteboard and do more general psychoeducation or collaborative problem-solving.
Headphones
While I love wireless headphones and use them in my personal time, I'm always hesitant to rely on them for therapy sessions. Sure, you can have a charged backup set next to you in case a pair loses power during a session, but I prefer to be wired in directly.
This also helps reduce any latency between the words being spoken by a client and when you hear them. Like internet, a wired connection will always reign superior here.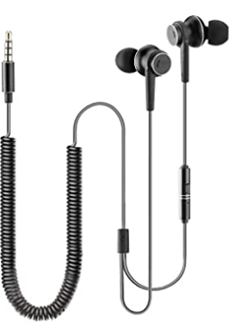 The pair of headphones I use go up to 18 feet / 5.5 metres, and have that classic "recording studio" stretch cord on them (sorry, not sure what that is called), These are great for my standing desk setup and for when I want to move a bit between sessions and forget I'm wearing wired headphones.
With wired in headphones, I have nothing to worry about, except cleaning them, as earbuds tend to get some "build up" over time…
Microphone
This is arguably just as important as the webcam. Built in laptop microphones or microphones on your headset pail in comparison to a more professional model. Fortunately, I've found that the Blue Yeti USB Microphone offers a significant improvement without a huge investment.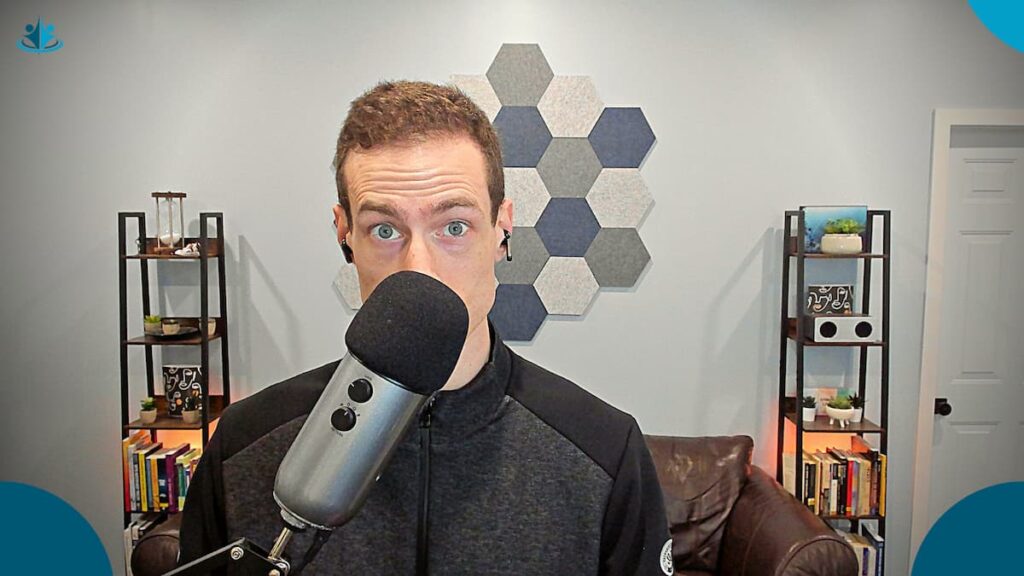 It's a really popular microphone for early YouTubers and Twitch streamers that don't have a lot to invest upfront, and I've had many positive comments about my sound quality. You can kind of see in the above picture that the microphone is being held by an extendable arm.
I also recommend getting a foam cover for it to stop dust from getting in as it will significantly prolong its life can keep the audio quality from degrading over time.
Clinical Note Taking
This is an area where I am still "old school", in that I use pen and paper. It's because I use a mechanical keyboard, and for anyone who knows what those are like, you know they are noisy. A lot of keyboards can be really soft and quiet, so that's definitely an option. But I like to take quick notes on paper during sessions and then type them in at a later time.
You can also use a tablet that has an electronic pen, as many of the popular therapy softwares can "synch" up with them, so you can digitally write notes in "real-time", and save that extra step of inputting them after.
This is an upgrade that's on my to-do list, for sure.
Acoustic Paneling & Echo Reduction
The decorative hexagons in the background of my office pictures actually serve a purpose. They are acoustic panels designed to "absorb sounds", and minimize echoes that a microphone can pick up. I think we all have some sort of childhood memory of yelling in a big open empty space to hear our echoes. Well, acoustic panels help dampen that.
If you've noticed an echo in your office, you can consider getting basic acoustic panels like these, that don't "look pretty", but will get the job done. Or you can just hang up bulky blankets in certain areas of your office to help absorb some of the sounds bouncing around.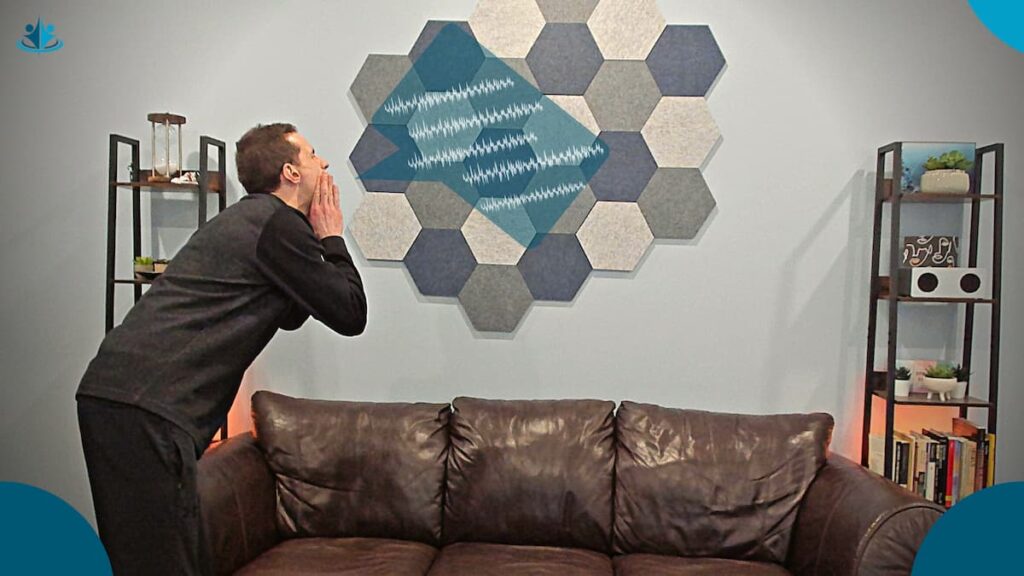 Lighting
There's no point in optimizing your video quality if you're still dark and covered in shadows. Lighting for your face will drastically improve your client's experience by seeing a clearer picture of you that is more vibrant.
Here's a before and after picture demonstrating the difference: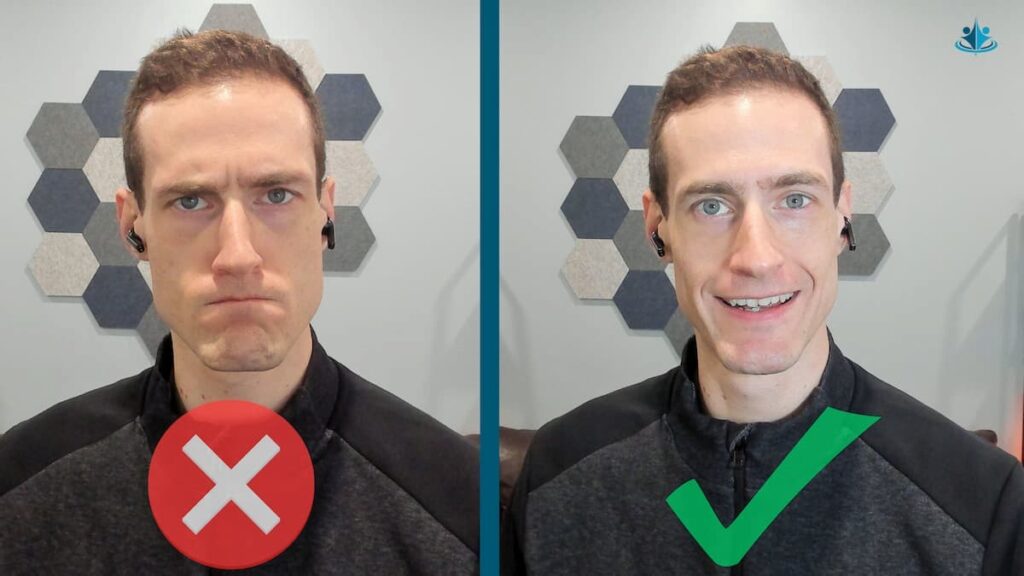 I also want to point out that I use a "back light" on my desk. This is a light that shines on the backwall behind my monitor and is an easy way to reduce eye strain as it takes some of the "load" from the monitor glare. But, keep reading, because your monitor can actually be optimized as well to reduce eye strain.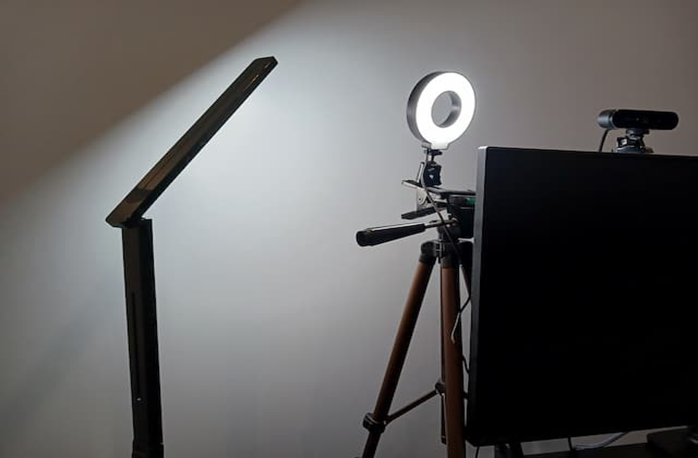 In case you're interested, here are the links to the two lights I use:
Face light for webcam
Desk light to reduce eye strain

This also has USB charging ports, very convenient!
Monitor
I am going to get a bit "geeky" here (although for some of you reading, I'm sure a lot of this has been geeky), but I think your monitor is worth upgrading if you're going to be a remote only therapist. The most important aspect in my opinion; however, is the refresh rate.
The refresh rate (measured in Hertz or Hz) of a monitor can play a role in reducing eye strain for some people. A higher refresh rate means that the monitor updates the image on the screen more frequently, which can reduce the flicker and motion blur that can contribute to eye strain and headaches.
The standard Hertz of most monitors is 60hz. Laptops will almost always have a 60hz refresh rate, unless it's a high-end gaming one. Once I upgraded to using a 144hz monitor, with the ASUS TUF Gaming Monitor, I find it uncomfortable to look at "regular" screens now (first world problems, I know…).
If your budget allows, going above 60hz will likely be a noticeable improvement for your eyes.
There's a reason all esports competitors use higher than average hertz monitors, and it is because it gives them a performance advantage.
Background
Your background is an opportunity to make things feel a bit more "professional" or "therapy-ey" (is that a word?). I actually got the couch in my background off of Kijiji years ago, back when I was a student. Sometimes, people just want to get rid of their stuff when they are moving and you can find some great deals on gently used furniture (I'm really glad I have kept it for so long).
I also use two salt lamps behind my books to give a bit of background light as that can help me "pop" out a bit more on screen. I'm not a photographer or professional producer by any means, but I picked up a few tips from YouTube a while back.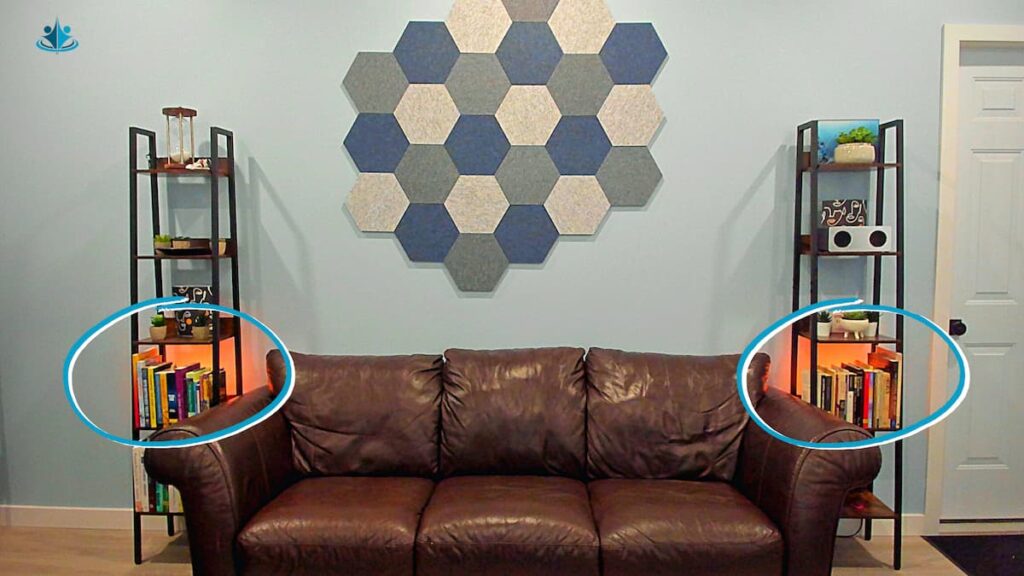 If you're a "nomad therapist" who likes to travel, you may want to consider getting a foldable pop-up background, almost like a portable wall divider. This can help keep your background consistent and look a little more professional. But if you're in something like an RV or a camper, you likely already have a mini office set-up, too. And to those of you living life this way, good on you! (And, I'm jealous).
You can click here to check out this gear on kit.co.
Here's the table of contents again in case you want to jump back or skip ahead
Table of Contents:
Benefits of Remote Therapy for Therapists
While the majority of posts on the topic of remote therapy and counselling focus on the benefits strictly for clients, I wanted to include a section on the benefits for therapists. I currently only offer remote therapy, but have done in-person therapy in the past. So, I can make a fairly informed comparison of the pros and cons for the therapist in remote therapy.
Saving Money
This applies in so many different ways, but I'll just share a few. I don't have to travel, like, at all. And since I live in a small-to-medium sized town, errands are quick. I fill up my car less than once a month (better for the environment too!).
I also don't have to worry about my clothes as much. I'm the type of person that, if given the choice, would just wear one outfit…forever. I'm not saying I think everyone should, just that it wouldn't bother me to give up that choice (well, maybe it would sometimes). But since I typically see clients once a week, I can re-wear a nice "fancy" top each week day for that week. This has really helped keep things simple in my day-to-day life, since becoming a parent a little over two years ago.
And when it comes to resources for clients, it's all digital. I don't have to print paper, order workbooks, or make duo tangs, everything can be attached to my client's dashboard in their portal and we can screen share during remote video sessions to complete them in real-time.
Better Work Life Balance
When I'm done a session, I can immediately do whatever I want or need to do. It gives me so much flexibility in life, and that's a value of mine that I like prioritizing, and a value that I have grown to cherish even more in parenthood. I get to drop my daughter off at pre-school everyday, and see her before and after her nap on days where appointments allow it.
And even though I work six evening sessions a week, I still get to eat dinner with my family every night. I get to run errands during the week that a lot of people have to wait until the weekend for (which means weekends can be even more adventurous!). I also have a weekday time slot for me to keep up with some household cleaning.
My work fits in around my life, not the other way around.
Don't get me wrong, there are aspects I miss. I have to go out of my way to get out of the house, which is necessary for my own well-being at times. So, this is more of a "heads up" to remote therapists, you need to build in your own transitions around work. It can be difficult to immediately be home after you're done work, so it's worth paying attention to and tweaking as you go.
Just the other I was able to have lunch at home with my partner, who also works remotely. When our daughter starts full-days at school (i.e., stops napping), we'll have even more freedom and flexibility throughout the week.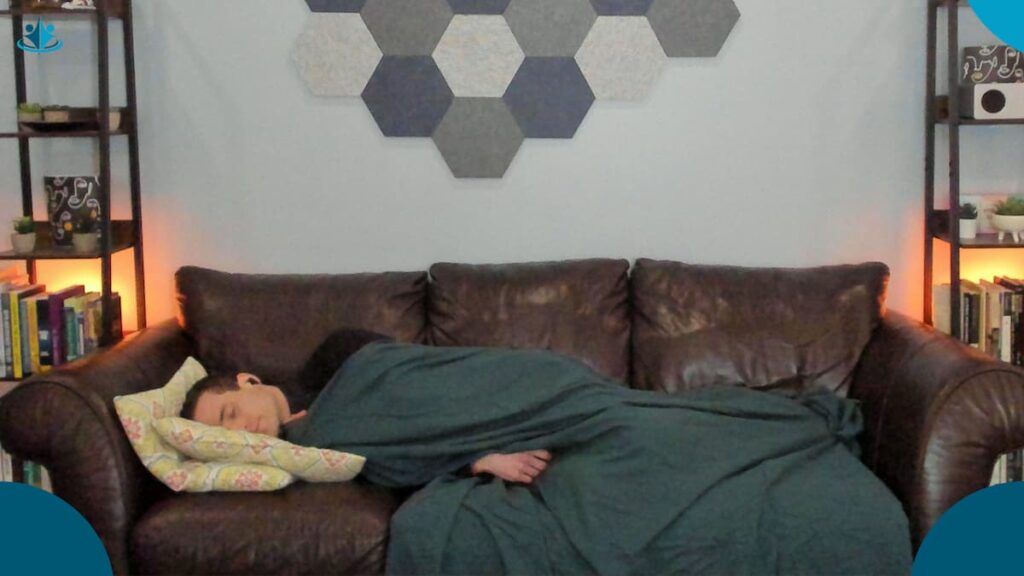 You Get Access to A Larger Pool of Potential Clients
Similar to how clients get to choose from a larger pool of therapists, my "service area" extends to all of Ontario. It's still limited to those who are seeking remote-only therapy, but there's no denying my opportunity for potential clients increases substantially.
I also have the potential to register in other Provinces and Territories across Canada to provide remote therapy to clients in other areas of the country. There may not be the same opportunity for all countries, but in a lot of them, you can register in other geographical areas (e.g., different Provinces or States), it just depends on their criteria for registration and the associated fees to see if it's worth pursuing, as a lot of colleges have their own required annual fees.
Easier to Work When Not Feeling 100%
Therapists in private practice don't get to enjoy the perks of being an employee. If they don't work, they don't get paid. This is why most clinics and centers are so firm on their cancellation policies. In private practice, I don't get paid vacation, paid sick days, or paid Holidays (if anything, since people are off on Holidays, I'm more inclined to work on them).
But since I do remote therapy only, even when I'm feeling physically weak from a cold or weekend flu, I may still feel mentally able to meet with clients. If it was in person, I would be far more inclined to stay home to avoid passing anything on to clients or my colleagues.
I am not at all implying therapists go to work sick or contagious.
Don't Have to Worry About Scents
Scents can be really triggering for people, and in a therapy context, that's something we try really hard to avoid. Scents can trigger past negative memories and experiences, but they can also trigger allergies in some folks.
However, I have recently discovered that I enjoy aromatherapy. I was given one as a gift, but had forgot about it for several months. When I was doing some organizing in the garage a couple of months ago, I discovered the box, so I set it up and got some pure essential oils.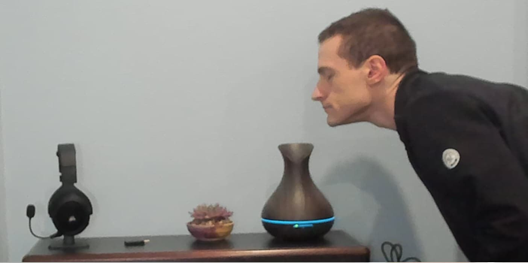 I have really been enjoying it so far! I've tried Lavender and Eucalyptus oils. The eucalyptus even seems to help a bit when it feels like I'm fighting something off, which has become commonplace ever since my daughter started preschool.
Frequently Asked Questions
Here is a breakdown of some of the most frequently asked questions around remote therapy, online therapy, e-counselling, e-therapy, tele-counselling, or teletherapy:
What Are the Different Types of Remote Therapy?
While the most commonly referred to form of remote therapy is video-to-video using software similar to a "Zoom call", there are actually a lot of different forms of electronic or digital therapy. Some of them include:
Guided therapy using modules
Synchronous text messaging
Asynchronous text messaging
Phone (audio only)
Video-to-Video
Virtual Reality Psychotherapy
Can chatGPT Work for Remote Therapy?
When chatGPT made its debut in 2022, I was immediately curious in how it could be applied in the mental health field. While I would never suggest solely relying on it for help, it does a fairly decent job at answering common mental health questions. However, I see it more helpful for therapists at this point, as chatGPT is known for delivering information with a lot of confidence, even when it's wrong.
So, a therapist may be able to scrutinize the output a little harsher than a client new to the therapy world.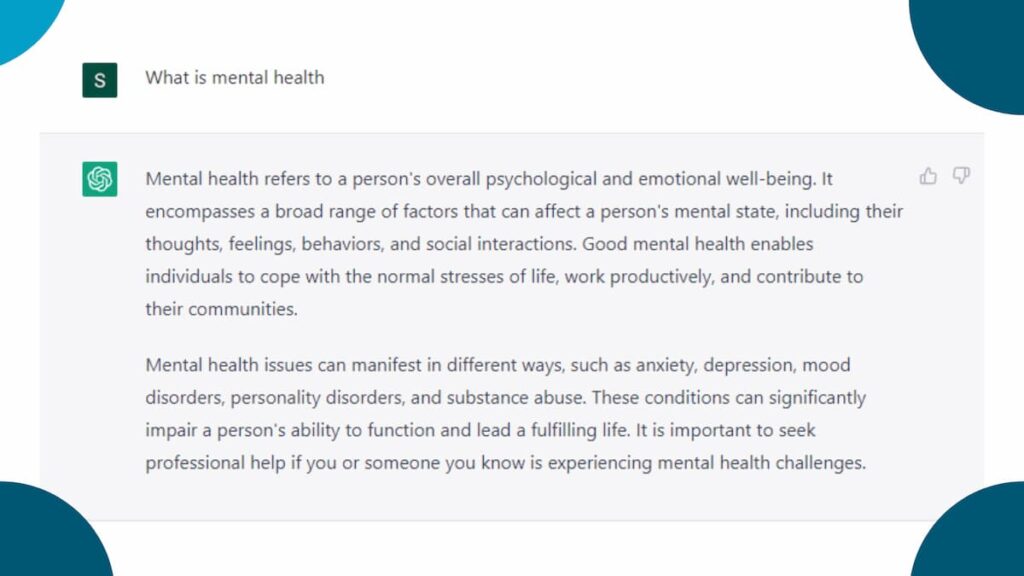 What Is Traditional Therapy?
Psychotherapy, or just "talk therapy", is a type of treatment that involves talking with a trained mental health professional, such as a psychologist, psychiatrist, registered social worker, or licensed therapist, to help improve mental health and well-being. The goal of psychotherapy is to help people better understand their thoughts, feelings, and behaviors, and to develop coping skills and strategies to manage life's challenges.
Psychotherapy can be provided in a variety of settings, including private offices, clinics, hospitals, and online platforms. The specific type of psychotherapy used will depend on the individual's needs and the therapist's training and expertise. Common types of psychotherapy include cognitive-behavioral therapy (CBT), psychodynamic therapy, interpersonal therapy, and dialectical behavior therapy (DBT).
Can Therapists Travel to Your Home?
This is potentially the "best of both worlds" for therapy. If a travelling therapist could just come to your home, you would get to still reap the convenience of remote therapy and still have in-person therapy.
In general; however, therapists do not travel to people's homes. This isn't due to an unwillingness on the therapists' side, as some of the counsellors do visit clients at their homes, especially when using therapeutic approaches like Exposure Therapy. But it's still pretty rare, and it's more likely that the counsellor was a Registered Social Worker.
This is due to liability and insurance. It becomes a lot more complex and expensive to get the insurance that will cover in-home therapy sessions, as compared to in-office. If in-person therapy at home becomes the norm, it would likely need to become far more expensive to offset the additional costs associated with it.
And to my earlier point regarding remote therapy opening up a larger pool of therapists to choose from, travelling therapists would still be limited by a small geographical area, although that area would expand with their ability to travel a distance. But again, that's another increase in cost due to travelling.
And if you found this article helpful, or know a therapist or therapy client who might find it helpful, feel free to share, we would appreciate that 😊
"Everything has been figured out, except how to live."

Jean-Paul Sartre