Some of the best father son video games include titles such as: Minecraft, It Takes Two, and Rayman Legends. Great single-player games for older teens and their fathers to play together are Uncharted: The Nathan Drake Collection and The Last of Us Remastered.
As an avid player and enthusiast of video games, from the early days of gaming on the PlayStation 1,2, and now 4, I have discovered that video games are tons of fun. It can also be a time of bonding between a son and father, whether enjoying a cooperative game together or experiencing single-player games together. So, what are the best father son video games?
All these games will further that special bond that only a father and son have. Together they can enjoy fun cooperative games or engross themselves in rich single-player games, especially if the sons are teenagers, with stories that will prompt discussions.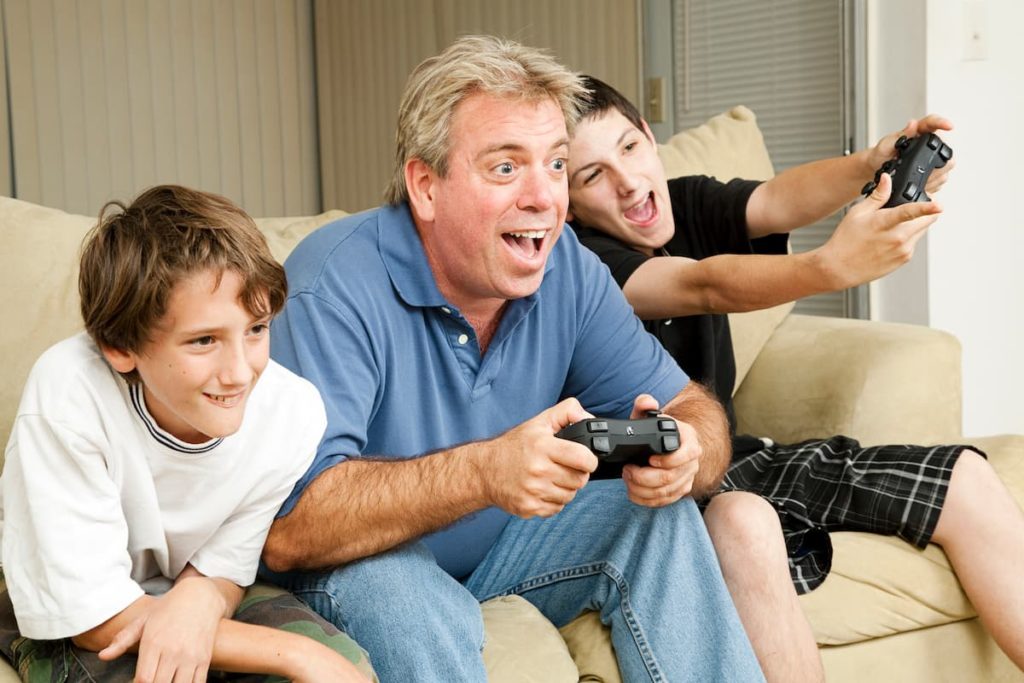 Related Reading: Movies About Parenting Styles [TOP 5]
Best PS4 Father Son Video Games
All the games mentioned can be enjoyed on the PlayStation 4 console, an affordable and excellent console. Many of the games mentioned below are exclusively only available to the PlayStation 4 platform.
Not all the games mentioned below are meant for fathers and their young sons respectively, but rather fathers with teenagers.
Their respective ESRB age rating will distinguish their age rating.
The best games are outlined below:
Cooperative Games:
Minecraft
Developer: Mojang
Publisher: Mojang
Released:  2019
Genre: Sandbox, Survival
ESRB: Everyone 10+
Minecraft first graced our computer screens in 2009. This sandbox and survival game first released a whole new world of not only survival but a platform of creativity as far as the bounds our imaginations can take us. The blocky world, and tools, was not only a means of surviving its dangerous and fun world but also a sandbox of creativity.
Fathers and sons can enjoy crafting tools of surviving and together fight the terrors that the night of its world brings. Or they can turn to creative mode and build beautiful and creative worlds together. There is a reason why this classic is still popular today and should not be missed.
Rayman Legends
Developer: Ubisoft Montpellier, Pastagames
Publisher: Ubisoft Entertainment
Released:2013
Genre: Platformer, Action-Adventure
ESRB: Everyone 10+
Rayman Legends is an excellent game. It is a zany, fun platformer to be enjoyed by the whole family, especially a father and son. Its 2D hand-drawn art style is as incredible as its tight platforming gameplay, best experienced cooperatively.
The game follows Rayman, a character many old gamers have known and loved, and his friends' adventures in the enchanted forest. Fathers, who are long-time gamers, can introduce their sons to the beloved character, enjoy this new generation's Rayman game, and ignite their love for the game's character in their sons. 
If it is both the son and father's first time in the Rayman universe, they will learn to love him and his hilarious but fun adventures together.
It Takes Two
Developer: Hazellight
Publisher: EA
Released: 2021
Genre: Cooperative, Action-Adventure
ESRB: Teen
What makes It Takes Two unique is that two people must play it. Playing it alone is not an option. One player must rely on the other player to succeed in the game's various, creative, and elaborative puzzles. This cooperative nature makes it the perfect video game for a father and son to enjoy together. Not only is its beautiful, colorful, and stylized art style pleasing to the eyes, but its deep story draws you in immediately.
Although it is rated Teen, I still believe a father with a younger son who believes his son is mature enough to handle themes of divorce and its consequences should still experience its remarkable story together. 
This game, too, has a beautiful story dealing with the mending of a broken relationship. Cody and Mary, busy divorcing, are trapped in their daughter Rose's dolls and forced to overcome obstacles together to escape the fantasy world they are trapped within. Throughout this beautiful journey, they discover more from each over than they bargained from it. 
It is a game that will be fun and form excellent discussions on relationships, divorce, and consequences.
Single-Player Games:
These games below are single-player but are still great to play together by a father and son. The two games below are noted not only for their excellent gameplay but, more importantly, their narrative value that will spark discussions among father and son.
For the sake of not repeating myself, the games below are meant for fathers, and their sons who are in their teens and late teens, respectively.
Uncharted: The Nathan Drake Collection
This game is a package of the first three Uncharted games initially released on the PlayStation 3 but has been lovingly remastered for the PlayStation 4. The Uncharted series is made up of excellent action-adventure games that are celebrated for their cinematic storytelling. The third entry especially will be noteworthy to fathers and their sons.
Uncharted 3 examines the troubled but loving relationship between protagonist Nathan Drake and his father figure, Sully, not by blood but by bond. It is a narrative that is sure to spark discussion on the role of a father in their son's life and how that role transcends into adulthood. I believe for this reason that this single-player game should be experienced by father and son together.
The Last of Us: Remastered
To state that The Last of Us: Remastered is a remaster of the PlayStation 3 classic would be an insult to how well it looks and holds up on the PlayStation 4. It is one of the most beautiful and most well-crafted games on the console. This game leans very heavily into a dramatic cinematic narrative with some horror and survival overtones in its addictive gameplay system.
 I would go as far as to say that this game is an interactive film that deserved all the accolades it got, with fantastic action-adventure and horror-survival mechanics. The story centers around Joel, a smuggler who lives in a post-apocalyptic plague-ridden America who must escort a girl called Ellie across the country to a nearby military base for reasons I will not disclose for fear of going into spoiler territory.
Throughout this adventure, Joel, whose daughter was killed at the beginning of the game in a prologue set many years before the main game, becomes Ellie's surrogate father as he learns to forgive himself for his past mistake of letting his biological daughter die. He learns to embrace the love only a father can have for his daughter throughout his journey after long years of sorrow, loss, and unforgiveness for his past mistakes.
Although the narrative follows a father-daughter relationship, I still believe it is relevant to a father-son relationship. It shows the beauty of love between a father and his child (whether through blood or bond), and the things loving fathers will go through for their children. 
This video game is best experienced together for the father and son and will act as a reminder of their love for each other and how deep their bond can go.
Continue Reading: When Should A Father Stop Cuddling With His Son?
Conclusion
Video games are not only a lot of fun to experience together between a father and son but can also spark valuable discussions. Such discussions are not limited but including their roles in each over lives. If you're really into the gaming scene, we wrote a helpful post on how to use Dad Bot with Discord, click to keep reading!