Fathers do attend baby showers in the twenty-first century. However, the occasions are called coed showers, diaper parties, or man showers. Men enjoy being part to show emotional support for the mother-to-be. Activities can be adapted to include the men as well.
In the old days, baby showers used to be for the women in the family. But an increasing number of men are developing a fear of missing out and want to join in the special day that used to belong to motherhood.
More and more fathers are starting to feel the need to be part of an occasion that used to belong to the women of the family and friends, where they will gush over pregnancy issues and birthing procedures. This day is gradually changing over to a couple's event where both parents get to celebrate their child's appearance in this world. As I investigated the phenomena, I came across quite a few inspiring ideas.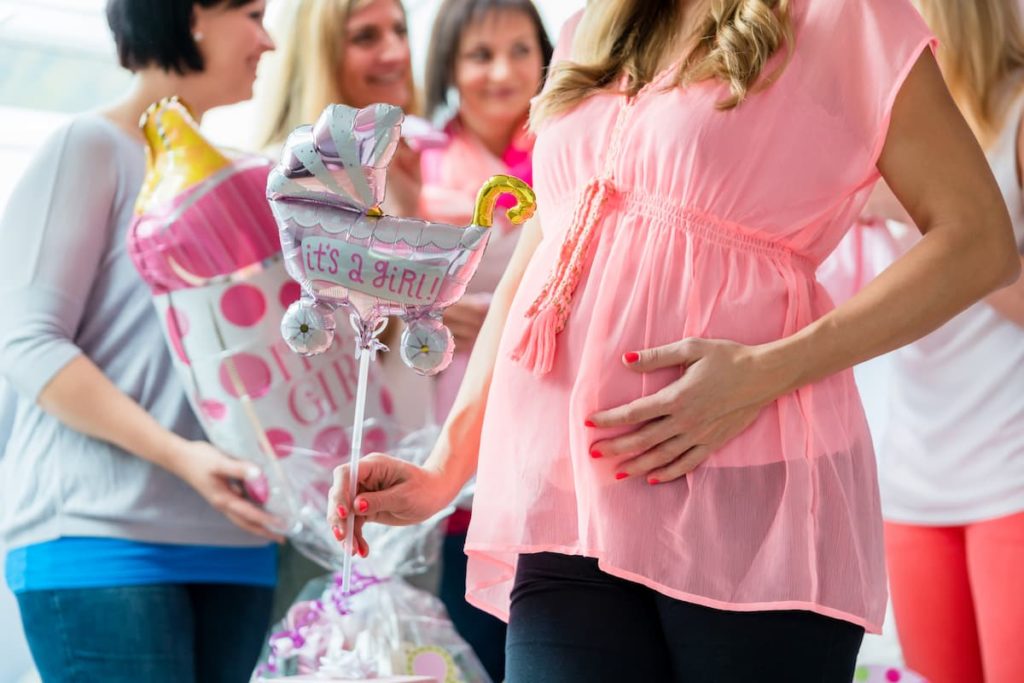 Fathers And Baby Showers
Fathers most certainly do attend baby showers. Many couples prefer having a shower where both parents can attend. Coed showers or Jack and Jill showers give the family and friends of both sides of the gender line opportunity to join in the joy of welcoming the little one into the family.
Not only can fathers attend these festivities, but they even get to have their own themed parties where the topic of conversation isn't the birthing process or blubbering over baby outfits but instead centered around beer and dip.
Father's occasionally have their baby parties called man showers, beer and diaper parties, or "baby stag". They invite their male friends and family to mingle as men do, generally with beers, cigars, and a big-screen television.
Related: Can Your Father Be Your Best Man?
6 Bright Ideas For A Man Shower
A Baby-Q party is entertaining if the father-to-be loves a good BBQ. There are special grilled items, chalkboard labels, and red checkered tablecloths to make the BBQ theme vibrant and jolly. They can join together for a football game around a big-screen TV, and of course with gifts.
A bro-down party can incorporate fun activities the dad, and his friends usually like to do. They can meet up for a game of basketball hoops, a skateboarding session, or some frisbee golf and end it with snacks and a couple of beers afterward. Usually, the already-fathers will have some nifty advice or survival ideas to impart to the new dad.
A dad duties competition is where silly games are invented to entertain the dads while they munch on some snacks and have a few laughs. They can see who can chug a baby bottle filled with juice the fastest or who can make a toddler's lunch the quickest, and they can race to see who are the first that can change a baby's diaper blindfolded, or even who can finish the dishes first.
Have a stroller race. If you have the space for it, set up a rally race for the men. Fill the course with all kinds of obstacles and have the men run the race two at a time. The hurdles can consist of anything you have at hand; a hose, ladders, chairs, or shovels—the one who beats all his mates without crashing the baby or having the baby fall out wins.
Skip town for a guy's weekend away. Ask a few of his closest friends and family to join him at a rented cabin, a lodge, a lake house, or simply a bachelor buddy's house. The weekend away will invigorate him for the months of sleepless nights and endless chores he will have to participate in after the baby is born.
Post-baby toast is just a supportive way of showing the new dad support. A couple of male friends and family members just come together after the baby was born and have a few toasts on the new father as a sign of encouragement and congratulations.
Gift Ideas For A Coed Shower
When you organize a coed shower for a friend or a family member, the idea is for the men to bring their own gifts. Most commonly, the women will take some cute baby clothes, baby appliances, or nifty gadgets other mothers found very helpful with their babies.
But men's list is short and sweet and always consists of diapers since this is the one thing a new mom and dad will never run out of. If the father's friends want to give him something special, they can hunt down a dad apron with all kinds of secret pockets to hold his diapering equipment or a dad toolbelt for his diaper duties.
Is Alcohol Allowed At A Baby Shower?
Serving alcohol at a coed shower is not at all unheard of. However, seeing that the mom-to-be cannot indulge, allowing alcohol as part of the refreshments should be predominantly her choice. For the other guests, it might be nice to spice up the cocktails with a bit of kick, as long as they don't use the opportunity to get drunk.
Since men will also be in attendance, it's generally accepted that beers and alcohol will be available. But even if the coed shower is an alcohol-free zone, there is an abundance of mocktails and alcohol-free drinks you can serve.
What If You Don't Like Games At The Baby Shower?
If you've been to as many baby showers as I have, playing the same games at each event becomes a little tedious and usually is only cute for the women in attendance.  Here are some ideas of what to do to make the object of the coed baby shower not centered around games.
Have a diaper raffle. In addition to the baby gift, note in the invitation that they can enter a raffle by purchasing a ticket with a pack of diapers or baby wipes. If you make the prize substantial, there will most likely be a lot of excitement around announcing the winner at the end of the party.
Bring a book instead of a greeting card. This will allow the mom and dad to build a lovely library for their little one.
Create a pack of supportive diaper messages at the party. Use a marker and write cute comments or messages on each diaper to keep the mom and dad entertained when they change the baby's diaper. This activity will keep the guests busy and entertained during the shower as well.
Have a keepsake guestbook. During the shower, people can write messages and memorable tips in a uniquely designed book or a baby onesie the couple can keep for the child to inherit when they are older. They can even frame the item to make it more sentimental.
The guests can make the baby's first alphabet book. You can have preprinted pictures making up each letter of the alphabet and have the guests all color them. In the end, you can laminate and bind them all to make your baby's first alphabet book.
Baby onesie station is also very popular with crowds who enjoy arts and crafts. You can have the materials, stencils, and white onesies ready for your guests to decorate and personalize. Later they can each hang their onesie on a line with some wooden pegs to dry.
You can even exchange the onesie idea with bowties and bibs where each guest can make a bib with cutout bowties, animals, pocket squares, or any kinds of shapes that will fit on the bib. They can iron on the shapes and hang them up to cool.
Make colorful advice or wish cards. Have a station where the guests can write their advice or well wishes on colorful cards and then hang them up on a washing line for all to read.
Have a polaroid photo booth for your guests to take memorable pictures of the day and hang them on a line within an enormous photo frame.  
Conclusion
I think it's a great idea for fathers to join the baby shower festivities. Dads feel an increasing need to support their wives physically and emotionally during the birth of their children. They are sharing a special bond, and a baby shower simply enforces that.