Co-parenting while still living together happens for several reasons and is often out of the parent's control. The best tips for co-parenting while still living together are putting your child first, redefining your relationship, splitting responsibilities, and taking some time out for yourself.
As a parent, nothing is more important than your child. And if you're separated, you've probably heard about how important co-parenting can be. But how do you navigate co-parenting while still living with your ex-partner?
Learning to co-parent while remaining under one roof isn't as tough as it may seem! If you and your parenting partner are willing to come together with the common goal of raising your child in a healthy environment, then there are plenty of ways to make it happen. If you're trying to co-parent while living under the same roof and need some support, we're here to help.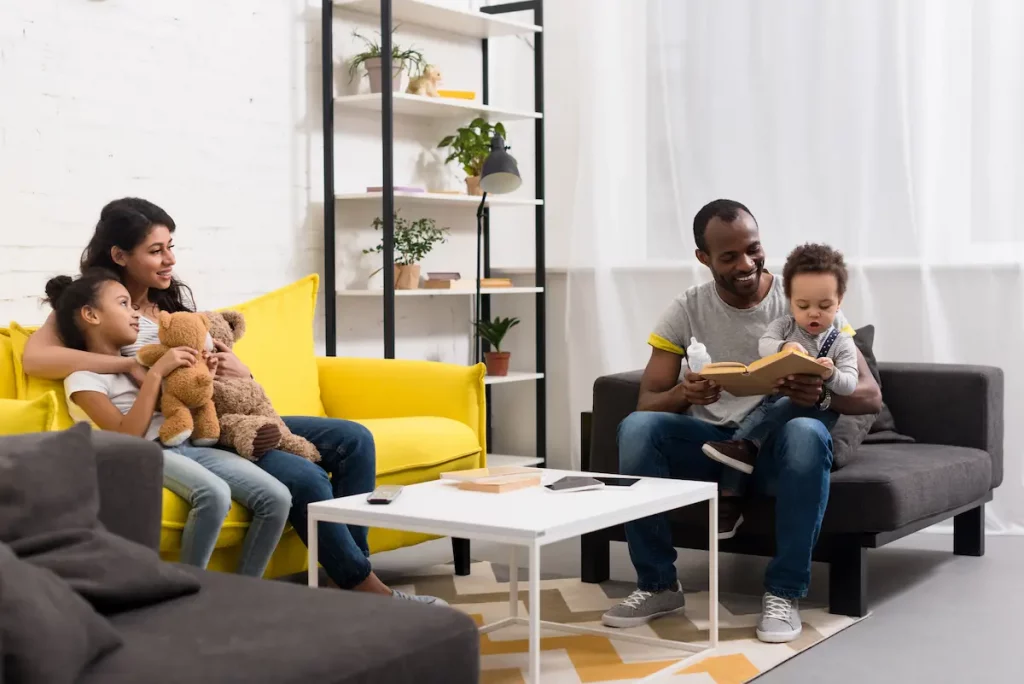 Related Reading: Co-Parenting After Infidelity [CAN IT WORK?]
Why Do Parents Live Together After a Divorce?
Separation and divorce can be challenging for couples to overcome. It can be hard to transition from a 'we' to an 'I' and doing it on your own may induce a lot of anxiety. For parents who are separating, it can be even more daunting because of the children.
Some divorced parents choose to live in the same house after the relationship ends. In some circumstances, however, there may not be another option. Instead, they decide to share a home for more practical reasons.
The most common reason parents live together after a divorce is to ease their children into the transition of having separated parents. Some of these arrangements are short-lived and are only temporary to allow their children to adjust to the idea of having parents who live in separate homes before they move out.
There are several other reasons parents may decide to live together after divorce. The main issue in many divorces is time & money. Whether one parent was a stay-at-home caregiver or there are financial limitations for other reasons, moving out is expensive. And some parents simply can't afford it!
Co-parenting while living together can be beneficial in a lot of relationships. It gives the parents time to come to terms with the new boundaries of their relationship and allows them to learn how to co-parent in a familiar environment. Living together after a divorce can also be a way to figure out how to co-parent efficiently before starting to live apart.
Divorced couples who co-parent under the same roof also have the added advantage of trial and error. Parents can take their time in figuring out what works for them – and what doesn't. It also helps parents to better understand the needs of their children and their parenting partner so that they are ready for single parenthood when they move out.
But how do these parents tackle co-parenting while living under the same roof?
Learning to Co-Parent While Living Together
Co-parenting can be challenging for divorced parents as it is. But if you add living together to the mix, it may be even more of a challenge to learn how to parent together in an understanding and respectful way.
We've put together a few tips to help you learn how to co-parent your child while you're still living with your ex.
Put Your Child First
Divorce is an emotionally taxing process for couples. While you need to heal and recover from a divorce, you must remember to put your children first.
Children are very perceptive of their environment. Although your child may not be old enough to understand the concept of divorce, they can certainly pick up on any animosity between their parents! Typically, if co-parenting while living together doesn't work it is because parents aren't able to put their differences aside for the benefit of their children.
A child-centric mindset can help you and your ex-spouse transition from an unhealthy marriage into a healthy co-parenting relationship.
Redefine the Relationship
Although you may have experienced a lot of hurt and sadness over the loss of your romantic relationship, it's important to remember that you're not married anymore. So, trying to parent your child the same way you did when you were married isn't going to work! Learning how to co-parent is all about redefining the relationship.
You need to take some time to transition from being a married couple to being merely co-parents. And that means working as a team!
You won't be able to co-parent your child efficiently if you're constantly at each other's throats. Instead, you need to think of your ex-spouse as your partner in parenting rather than your enemy in love.
Redefining the relationship will look different for each couple. Try to sit down and work on a set of agreements that work for you and your ex-partner.
For example, you can agree that you'll each engage in solo activities with your children to give one another some downtime and space. This will help you gain some space to heal and recharge while still meeting your child's needs for one-on-one interaction with their parent.
Split Responsibilities
While you may be co-parenting under one roof, there may (and likely will) come a time when the two of you will be living separately. So, while you're still living together, it's important to share responsibilities so that you can adjust to the new roles you'll have to undertake.
For example, if one of you has always done school drop-off and pick-up, it might be time to share this responsibility. You can start by having one parent drop the children off at school while the other fetches them in the afternoon. Similarly, you can share the responsibility by alternating this responsibility on different days.
Make sure to split the load evenly. That is what co-parenting is all about. You'll need to learn how to parent your child when you're living alone, but you can start by practicing how to care for your child while there are still an extra pair of hands to help you out. This gives you time to tweak your skills and iron out the fine details between you and your ex.
Related Reading: How to Help Your Family With the House Work
Take Some Time Out
When you live on your own, you'll have more free time to spend on yourself while the other parent has the children. While you're still living with your ex, it's essential to learn how to give the other parent a break now and then.
By giving your co-parent some time to themselves, they'll be able to work on themselves and get more accustomed to not having your child(ren) around. This helps your child(ren) understand that they will need to rely on the parent that is present and can also help you to adjust to living on your own when your child is with your co-parent.
Having time alone is essential to healing after a divorce. Because you don't have physical space from your partner (or your kids), you'll need some 'me-time' to work through your thoughts, feelings, and emotions. After all, you must be there for your child(ren) through this transition period. And it's much easier to do that when you're not overwhelmed or stressed out.
Conclusion
Separating from your partner can be painful and – for most people – a time of loss and grief over your relationship. Although it can be a tough time for anyone, having children in the midst of a divorce can make things even more complicated.
If you're living in the same house as your ex-partner, you'll need to learn how to co-parent efficiently to raise your child(ren) and meet their needs. Co-parenting while living together is challenging but not impossible. If you work together, you and your parenting partner can become a co-parenting dream team!