DISCLAIMER: The information in this post is meant to be informative in nature. The answer to the topic, however, is location-dependent, and it is in your best interest to seek information and guidance based on your specific location and the laws pertaining.
In the United States, and in most states, if you are under 18 years of age you will need parental consent for mental health services like a therapist (with few exceptions). In Canada, there is no "general age of consent" for counseling, and they instead rely on the young person's capacity to consent. In the United Kingdom, young people aged 16 and older can consent to treatment, with some exceptions for younger ages.
If you are going through difficult times, a licensed therapist or counselor can be extremely helpful in your journey to inner healing. However, many parents are not comfortable with the thought of their child visiting a therapist alone, or you might not feel comfortable telling them that you are seeing one or sharing the reason you wish to do so. So, this raises the question; can you see a therapist without your parents knowing?
You may be very determined to see a therapist. Don't feel disheartened if you are legally unable to see one without parental permission where you live. There are many excellent alternatives you can try that can support and help you through the difficulties you are facing. Continue reading to learn more.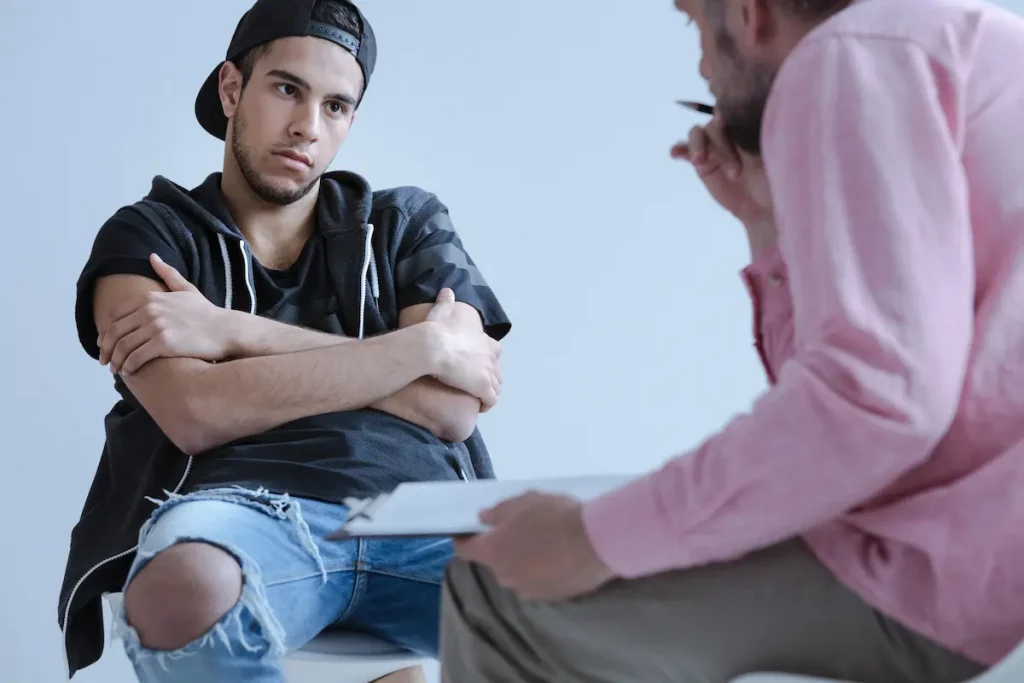 Related Reading: Can I See a Psychiatrist Without Parents Knowing?
Can You See a Therapist Without Your Parents Knowing?
Firstly, I would like to say well done. Deciding to seek assistance or let someone else know how you feel takes courage and a lot of self-awareness that even many older people don't have. Unfortunately, seeing a therapist might not be an easy task for everyone if you are not at the age of consent for your state or country.
For some, their parents might disagree with the idea of seeing a therapist in general. Similarly, some individuals may feel uncomfortable telling their parents that they want to see a therapist or why. Whatever your reason for not telling your parents, we can all agree that seeing a therapist without your parent's knowledge can feel and be challenging.
But, are you even allowed to see a therapist without your parent's consent? Well, one thing can determine the answer: the law. Because the law differs drastically from state to state and country to country, there is no simple 'yes' or 'no' answer you can give for this question.
For example, if your parents are divorced/separated and share custody of you as a minor, they may both need to consent for you to be allowed to seek therapy; however, there are exceptions to the laws. For example, individuals who have court-ordered emancipation from their parents can consent to treatment and therapy without the approval of their parents even if they are beneath the legal age of consent.
Should you attend therapy under emancipation, a copy of the decree is needed before therapy can begin. Moreover, many states permit minors to seek therapy without parental consent if delaying treatment can cause put the minor in danger, such as suicide or self-harm.
On the other hand, some states allow individuals over the age of 12 to visit a therapist for a limited number of sessions. After the limited number of sessions are over, the minor has to decide between stopping the therapy sessions or informing the parents to get parental consent to continue.
If you decide to continue, many states allow the therapist to 'seal' the first sessions from the parents if you would like. However, be sure to speak about confidentiality with your therapist and what your parents can or can't access when you are there. The number of limited therapy sessions differs from state to state.
So, seeing a therapist without your parents' knowledge depends entirely on where you live. You can conduct an online search to learn more about your state's rules regarding visiting therapists without parental consent.
Be sure to include your state name in your Google search. If you would like more information, ask your school guidance counselor about the laws in your state regarding visiting a therapist without parental consent.
Related Reading: How Can I Date Without My Parents Knowing?
Alternatives to Therapy Without Parent's Knowledge
If you can't access therapy in your area, do not fret. There are other helpful alternatives that you can try that do not need to involve your parents. Carry on reading to find out more.
Visit a School Counsellor for Therapy
If you are unable to see a therapist, visiting your school counselor is an excellent alternative. Students can seek assistance from counselors for personal issues, school-related problems, and other needs.
For example, if you feel overwhelmed with school work or are struggling with matters in your home life, a school counselor can provide a helping hand and suggest helpful coping strategies. School counselors are trained to listen and help you through these difficult times.
However, like other therapists, school counselors are obliged to inform your parents if they suspect you are at risk of harm from others, may cause harm to yourself, such as self-harm or suicide, or may cause harm to others. They are also obliged to inform the appropriate authorities if they suspect abuse.
If you are struggling with thoughts of self-harm or suicide, it is best to seek help. The most important thing is your health and well-being. Whether or not your parents find out about it comes second to your health. You matter most.
In the absence of any of these previously mentioned factors, a counselor is required to keep confidentiality. Meaning they are not permitted to inform your parents of what was discussed during the counseling session. Nevertheless, you need to be able to feel you can trust your counselor.
If you suspect your school counselor is not qualified (you can ask to see the counselor's credentials to make sure), or you believe they can't or won't keep confidentiality, it may be best to try alternative methods.
Qualified school counselors are held to professional standards, rules, and regulations that prohibit them from sharing information (except in some instances like the ones mentioned before). Therefore, make sure you discuss confidentiality with your school counselor during the first meeting to be better informed.
Use Online Support Groups or Hotlines
Thanks to modern technology, many more things can be accessed that weren't previously available. The best part is that it is usually just a click away, and you have all the information you need. Online support groups can be a helpful alternative if you cannot access a therapist in-person.
You can find many support groups for specific difficulties you may be going through. For instance, you can find support groups for people struggling with anxiety, depression, stress, loss, etc. Support groups are there to help offer support and let you know that you are not alone. Be sure to join well-established support groups if possible.
Additionally, there are also hotlines that you call if you need to speak to someone. Depending on your specific difficulty, you can find many hotlines that can suit you (anxiety, loneliness, depression, etc.). So be sure to Google a hotline specific to you.
Nonetheless, here are some general hotlines and chat centers if you ever need to use them:
Crisis prevention. During times of crisis, you can talk with someone who can offer support. Simply text HOME to 741741. A crisis can be anything and can be any painful emotion you are feeling. Crisis counselors offer support on topics such as eating disorders, self-harm, suicidal thoughts, or whatever else you may need support with. Visit their website https://www.crisistextline.org/ for more information.
Sexual Assault Hotline: dial 800.656.HOPE (4673). Calling the National Sexual Assault Hotline will connect you with someone who can talk you through what happened, offer support, and direct you to local resources and facilities that can assist recovery and much more. Visit their website for more information https://rainn.org/about-national-sexual-assault-telephone-hotline
LGBTQ Hotline. The Trevor Project is an organization that deals with crisis intervention and suicide prevention for LGBTQ youth. Call on 1.866.488.7386 or text START to 678-678 to speak to someone via chat.
For the National Domestic Abuse Hotline, text START to 88788 or call on 1.800.799.SAFE(7233 ). You can learn more about the Hotline and other information at https://www.thehotline.org/.
Speak to a Trusted Adult Instead of a Therapist
If you are unable to access a therapist, speaking to a trusted adult might be a good alternative. The adult could be an aunt, uncle, teacher, coach, friend's parent, or someone else that you trust. It is essential that you already have an established relationship with the adult and that you can trust them to be confidential with your information.
Although they might not be a licensed therapist, they might still offer valuable support, advice, and wisdom if needed. Do not disclose your problems if you don't trust them.
Also, never spend alone time with an adult you don't know well, especially in their home or secluded places. If at any point you feel unsafe with the adult, leave immediately, inform your parents or another trusted adult, and stop contact completely.
Conclusion
Whether or not you can visit a therapist without your parent's knowledge depends entirely on where you live. Visit your school's counselor or search online to learn more about your state's rules regarding therapy.
If you are unable to visit a therapist, the are many excellent alternatives such as visiting your school counselor, joining a support group, calling a hotline, or confiding in a trusted adult.